WELCOME TO BARAH MINISTRIES
Good Morning!
Let's Make a Mental Shift
In preparation for the study of the Word of God, your first shift is a mental shift. The Word of God illuminates. It cuts to the heart of every matter. It penetrates right down to your very thoughts.
The Word of God is alive and powerful and sharper than any two-edged sword, and piercing even to the dividing asunder of the soul and the spirit, of the joints and marrow, and is a critic of the thoughts and intents of the heart.
The Word of God allows you to compare your thoughts to God's thoughts so you can live by God's ways and not by your own ways. It is as effective and as relevant today as when it was first in the mind of the Lord Jesus Christ in eternity past…as effective as it was as it was breathed into the pens of the human authors of Scripture by THE God Himself, the Lord Jesus Christ..
INVITATION TO RESTORATION
Make a Spiritual Shift
The second shift, before you study the Word of God, is a spiritual shift. During this spiritual shift you offer control of your soul to God the Holy Spirit. As believers in the Lord Jesus Christ, we are commanded to allow the Holy Spirit to fill up our deficiencies in Ephesians, Chapter 5, Verse 18…
And do not get drunk with wine, for that is dissipation, but (keep on) be(ing) filled with the Spirit…
Thus we have a choice…to be controlled by the thinking of the world, or to be controlled by the third member of the Triune Godhead…during this bible study. Now is the tie to make your choice and to announce it to your God.
SILENT REFLECTION
Be Occupied with the Person of the Lord Jesus Christ
Please take a few moments in silence, to reflect, to open your heart to the truth, and to fix the eyes of your soul on the author and perfector of your faith, the Lord and Savior Jesus Christ…
OPENING SONG
Word of God Speak
OPENING PRAYER
Let us pray...(0:30)
We're grateful Heavenly Father for the privilege of studying the absolute truth...the Word of God...
Help us to be reflections of your will to a lost and dying world, and help us to keep foremost in our mind the importance of biblical study to our growth…
We ask this through the power of God the Holy Spirit...in Christ's name...Amen.
WELCOME TO BARAH MINISTRIES
Pastor Rory Clark
My name is Pastor Rory Clark. You're listening to lesson four hundred and ten of the Angelic Conflict series. Welcome to a ministry designed for serious students of the Word of God.
TODAY'S STUDY
The CREATOR'S Will is that You Live Christianity
PLEASE STAND
PLEDGE OF ALLEGIANCE
In gratitude for all who defend our freedom, especially in gratitude for military victory from our front line military personnel and in honor of law enforcement officers all over the world, especially those in our own congregation, we recite the Pledge of Allegiance.
PLEDGE OF ALLEGIANCE
I pledge allegiance to the flag
Of the United States of America
And to the Republic for which it stands
One nation under God
Indivisible
With liberty and justice for all.
ANNOUNCEMENTS
Mark Your Calendars!
The next Lord's Supper Celebration is January 13, 2013
That's next week.
Barah Ministries Radio Program
KXXT, 1010 AM, Phoenix
Fridays 4:30PM-5:00PM
Rebroadcast
myfamilyvaluesradio.net
CLICK TO LISTEN
"G"
"God Cares for You"
Thanks very much for your financial support of the program. It costs 0 a month. This year, the radio program will be evangelistic in nature. We'll be structuring the messages to invite people to study with us. Check out the lessons. This is a way for you to get an extra bible study each week and to help you learn how to evangelize to unbelievers. We're going to look for other radio show opportunities in the Phoenix area as well.
A couple of belated wishes…
Happy Birthday
Gabrielle Inman
December 13
Cody O'Donnell
Graduate
Marine Corp Basic Training
December 21
Happy Birthday
Deanna Lemmon
January 2
She's 22…hmmm…that sneaked up on me…next thing you know she'll be graduating from college….arghhhh! College puke!
Next, let's take the offering. Let's welcome up Deacon Elliott Clark.
THE OFFERING
Deacon Elliott Clark
Barah Ministries Financial Policy
No price appears on any material from Barah Ministries so that anyone who desires biblical teaching may have it free of charge.
OFFERING VERSE
Now as Jesus was walking by the Sea of Galilee, He saw two brothers, Simon who was called Peter, and Andrew his brother, casting a net into the sea; for they were fishermen. And He said to them, "Follow Me, and I will make you fishers of men."
Remember to be in fellowship with God when you are giving
OFFERING SONG
Shine Jesus Shine
TODAY'S STUDY
The CREATOR'S Will is that You Live Christianity
Your soul is involved in the battle between two kingdoms…a battle between two sovereigns…a battle between two beings who function with authority…One who has genuine authority and one who has counterfeit authority. Your soul is the battleground on which these two kingdoms fight. The issue of this battle is not religious. The issue of this battle is not political. The issue of this battle is spiritual.
For our struggle is not against flesh and blood (sin natures and souls), but against rulers, against the powers, against the world forces of this darkness, against the spiritual forces of wickedness in the heavenly places.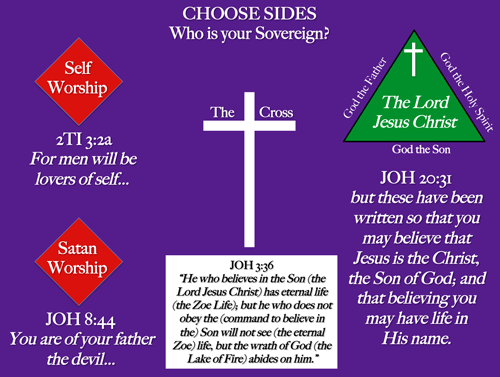 Your soul has been chosen by God to be a part of the resolution of the Angelic Conflict. The sovereign beings of each kingdom, the kingdom of darkness and the kingdom of God, are vying for control of your soul. In freedom, the right of self-determination, you get to choose whom you will serve.
If you are an unbeliever, you have two choices… one is SELF-WORSHIP…
Second Timothy, Chapter 3, Beginning at Verse 1…
But realize this, that in the last days difficult times will come.
For men will be lovers of self, lovers of money, boastful, arrogant, revilers, disobedient to parents, ungrateful, unholy…
…unloving, irreconcilable, malicious gossips, without self-control, brutal, haters of (divine) good…
…treacherous, reckless, conceited, lovers of pleasure rather than lovers of God…
…holding to a (superficial) form of godliness, although they have (even) denied its power; Avoid such men as these.
Can you see this SELF-WORSHIP lifestyle in operation every day?
We can look around in Satan's kingdom, here on planet earth, and see the manifestations of this self-focused lifestyle at every turn. We don't have to look any further than our mobile phones. The obsession with these electronic devices as our "friends," which in truth the reflection of a self-obsessed lifestyle, has crossed the line into pathetic.
I have friends who are on the "dating scene" and hearing their frustrations about their encounters with this SELF-WORSHIP lifestyle stir the compassion in my soul.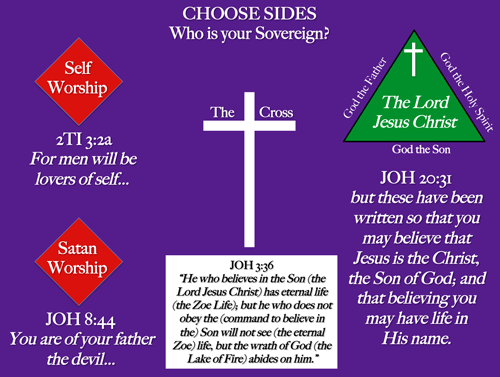 Can you see the SATAN-WORSHIP lifestyle in operation every day?
"You are of your father the devil, and you want to do the desires of your father. He was a murderer from the beginning, and does not stand in the truth because there is no truth in him. Whenever he speaks a lie, he speaks from his own nature, for he is a liar and the father of lies."
You can see it. The indifference and antagonism toward God is everywhere. Ever ask the people around you this simple question, "What role does God play in your life?" The reaction is like a fart in a space suit. It's uncomfortable beyond belief. That's why so many of you don't evangelize. You've tried to sneak up on evangelism by approaching it indirectly, and you've had your fingers slammed in the car door too many times. Discomfort with evangelism is not an effective excuse, by the way, for not evangelizing.
Ever start playing a bible lesson in front of your friends just for the pleasure of seeing their souls go off like popcorn with irrelevant questions to mask their discomfort?
BREAK
When I Think About Home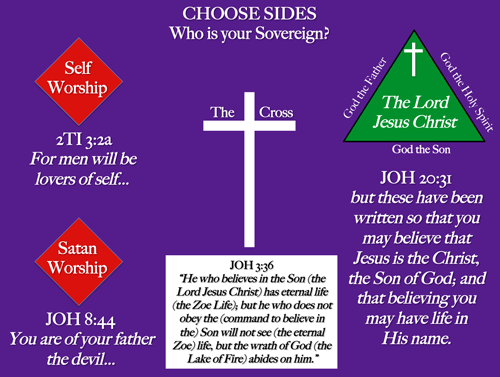 The issue in evangelism is simple…it can be adequately captured in five verses…
But God (the Father) demonstrates His own (unconditional) love toward us (all mankind), in that while we were yet sinners (spiritually dead unbelievers), Christ died (as a substitute) for us.
Believe in the Lord Jesus Christ and you will be saved, you and (everyone in) your household (who also believes).
(The Lord) Jesus Christ said, "I am the way (to salvation), (I am) the truth (through the Word of God) and (I am) the (eternal) life; no one comes to the Father, but through (believing in) Me."
For by (efficacious) grace you have been saved through faith (alone in the Lord Jesus Christ alone); and that (grace, faith, and salvation is) not of yourselves, it is the gift of God; not as a result of works, so that no one may boast.
"And there is salvation in no one else; for there is no other name under heaven that has been given among men, by which we must be saved (except the Lord Jesus Christ)."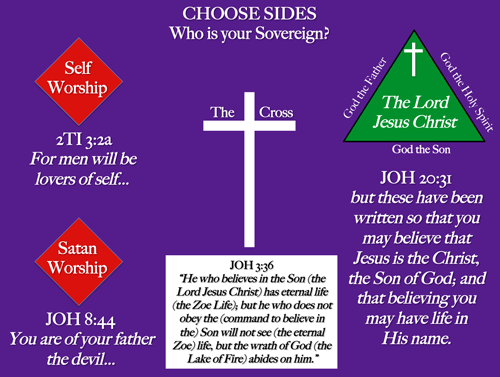 The issue for unbelievers is the Cross.
"He (anyone) who believes in the Son (the Lord Jesus Christ) has eternal life...but he who does not obey (the command to believe in) the Son (the Lord Jesus Christ) will not see (eternal) life (in heaven) but the wrath of God (everlasting life in the lake of fire) abides on him."
If you are a believer in Christ, you have chosen sides.
JOSHUA 24:15
"If it is disagreeable in your sight to serve the Lord, choose for yourselves today whom you will serve: whether the gods which your fathers served which were beyond the River, or the gods of the Amorites in whose land you are living; but as for me (Joshua) and my house, we will serve the Lord."
For the believer in Christ, the course is clear, the choice has been made, freedom has been spent…we serve the One and only Sovereign Lord, the King of the Universe, the Ultimate Authority.
The challenge believers in Christ face, and indeed the reason we engage in biblical study, is not only to learn knowledge, but also to not let our learning stop there…we learn most when we are effective at executing the things we are learning. We do not come to biblical study to simply gather information.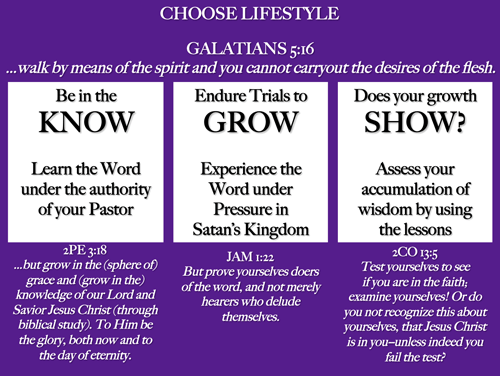 God's will for believers in Christ is that first, we learn…we KNOW; second, that endure trials…we GROW; and finally, that we examine our own progress…we ask, "Does it SHOW?"
When we choose a SOVEREIGN, we choose sides in the Angelic Conflict. For believers in Christ we choose the Kingdom of God over the kingdom of darkness. As choosers of the kingdom of God, believers in Christ are requested to learn their God's "game plan" … to be in the KNOW!
…but grow in the (sphere of) grace and (grow in the) knowledge of our Lord and Savior Jesus Christ (through biblical study). To Him be the glory, both now and to the day of eternity. Amen.
By means of a choice to exercise genuine humility, we choose to sit under the spiritual chain of command (God…His Word…Pastor…Congregation… Biblical Knowledge) to hear God's predetermined approach to the Angelic Conflict. In the classroom of biblical study, God the Holy Spirit teaches us a lifestyle of divine thought…God the Holy Spirit teaches us how to live in our new nature.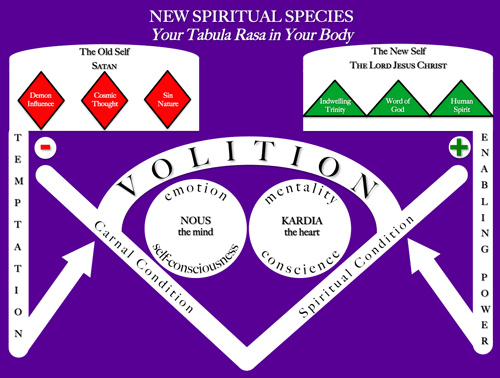 But I say, walk by (means of the enabling power of God) the (Holy) Spirit, and you will not (in fact, cannot) carry out the desire of the flesh.
Next, God wants us to endure trials to GROW.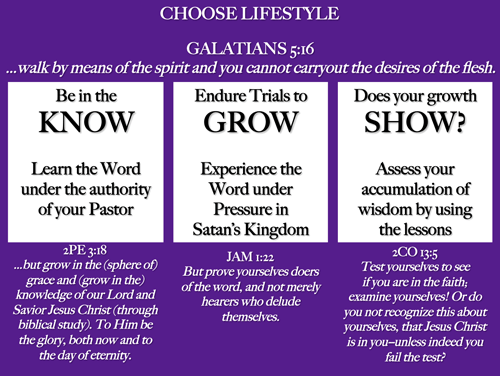 James. Chapter 1, Verse 21 says…
Therefore, putting aside all filthiness and all that remains of wickedness, in humility receive the word implanted, which is able to save your souls.
But prove yourselves doers of the word, and not merely hearers who delude themselves.
For if anyone is a hearer of the word and not a doer, he is like a man who looks at his natural face in a mirror…
…for once he has looked at himself and gone away, he has immediately forgotten what kind of person he was.
But one who looks intently at the perfect law, the law of liberty, and abides by it, not having become a forgetful hearer but an effectual doer, this man will be blessed in what he does.
We learn about the Kingdom of God in the classroom, but we execute God's plan in Satan's kingdom of darkness. We voluntarily obey the doctrines we learn from God in the classroom and we test their efficacy in Satan's kingdom.
For momentary, light (weight) affliction is producing for us an eternal weight of glory far beyond all comparison,//while we look not at the things which are seen (the details of life), but at the things which are not seen (the doctrines in the Word of God); for the things which are seen are temporal (here today and gone tomorrow), but the things which are not seen (the doctrines in the Word of God) are eternal.
Knowledge is not enough. It is God's will that we learn by using our freedom to test the knowledge He gives us with experiences. We voluntarily agree to obey and to execute an eternal plan that has temporal power.
"You (believers in Christ) are My friends if (3) you do what I command (request of) you (maybe you will and maybe you won't…you have freedom to choose)."
We are not simply to learn the word by hearing…we are to do the word in the world…we are to learn the Christian Way of Life and to execute the Christian Way of Living. We have to know and execute the connection between knowing and doing.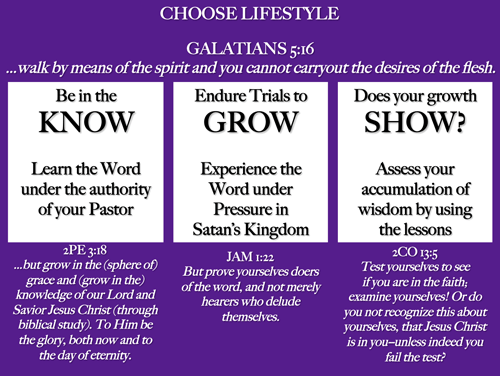 Then we assess our effectiveness. Is what we are doing in Satan's kingdom working or not? We assess our use of divine power and its effectiveness. We ask simply, "Does it SHOW?"
(Make it a habit to) Test yourselves to see if you are (living) in the (sphere) faith (the Word of God); examine (prove it to) yourselves! Or do you not recognize this about yourselves (in self-examination), that (the Lord) Jesus Christ is in(dwelling) you — unless indeed you fail the test (by proving that you are not in the sphere of the Word of God)?
We are not to use our freedom as a license to sin.
Act as free men, and do not use your freedom as a covering for evil (a cloak of maliciousness), but use it as (if you are) bondslaves of God (because you are).
Instead, we are to use our freedom as a choice to serve our Sovereign authority. Our self-examination brings these things to the surface so that we can assess whether or not we are progressing in the Christian Way of Living.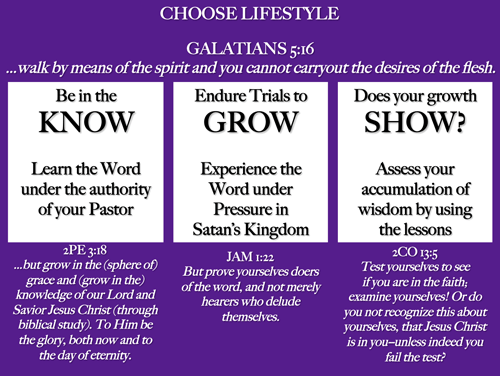 TAs we continue our biblical study, and as we continue our examination of God's will, the importance of these three simple things… KNOW… GROW…and does it SHOW…will take on new meaning in your souls.
CLOSING SONG
We are Royalty
CLOSING VERSES
"For I know the plans that I have for you," declares the Lord, "plans for welfare and not for calamity to give you a future and a hope."
Therefore humble yourselves under the mighty hand of God, that He may exalt you at the proper time, casting all your anxiety on Him, because He cares for you.
Now to Him who is able to keep you from stumbling, and to make you stand in the presence of His glory blameless with great joy, to the only God our Savior, through Jesus Christ our Lord, be glory, majesty, dominion and authority, before all time and now and forever. Amen.
CLOSING PRAYER
Let us pray...
THANKS
INTERCESSION
PETITION
And we pray that you continue to shape the messages from this pulpit that are an accurate reflection of your person, your thinking, your work, your reputation and your essence...we ask this through the power of God the Holy Spirit, in Christ's name,Amen.
Thanks for coming!
Thanks for watching!
Thanks for listening!
www.barahministries.com