WELCOME TO BARAH MINISTRIES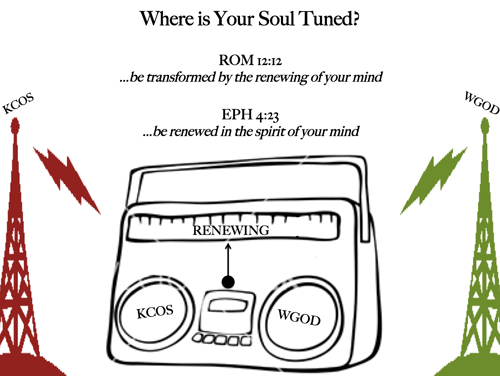 TODAY'S STUDY
The CREATOR'S Will is that You Enjoy Your Spiritual Freedom
FROM A NON-RESIDENT CONGREGATION MEMBER
I have studied and studied this year's lessons! They have hit my soul like sweet refreshing summer days after a long hard winter!!!!
PHI 3:1
Finally, my brethren, (continue to) rejoice in the Lord. To write the same things again is no trouble to me, and it is a safeguard for you…
PHI 3:3
…we (Church Age believers in Christ) are the true circumcision, who worship in the Spirit of God (who worship God in spirit) and glory in (union with) Christ Jesus and put no (not never…ouk!) confidence in the flesh…
QUESTION FOR REFLECTION
To whom have you given your spiritual loyalty?
2CO 13:5
(Make it a habit to) Test yourselves to see if you are (living) in the (sphere of) faith (the Word of God); examine (prove it to) yourselves! Or do you not recognize this about yourselves (in self-examination), that (the Lord) Jesus Christ is in(dwelling) you — unless indeed you fail the test (by proving that you are not in the sphere of the Word of God)?
1JO 4:1
Beloved, do not believe every spirit, but test the spirits to see whether they are from God, because many false prophets have gone out into the world.
1TI 4:1
But (God the Holy) the Spirit explicitly says that in later times (in every generation) some will fall away from the faith, paying attention to deceitful spirits and (paying attention to the) doctrines of demons…
EPH 5:14-16
For this reason it says, "Awake, sleeper, and arise from the dead, and Christ will shine on you."//Therefore be careful how you walk, not as unwise men but as wise,//making the most of your time, because the days are evil.
QUESTION FOR REFLECTION
Who is your God?
EPH 2:11
Therefore remember that formerly you, the Gentiles in the flesh, who are called "Uncircumcision" by the so-called "Circumcision," which is performed in the flesh by human hands
EPH 2:12
…remember that you were at that time (when you were an unbeliever) separate from Christ, excluded from the commonwealth of Israel, and strangers to the covenants of promise, having no hope and without God in the world.
2CO 5:17
Therefore if (1) anyone is in (union with) Christ (and all believers are), he is a new creature (a new spiritual species); the (sovereignty of the) old things passed away (died!); behold, new (spiritual species) things have come.
QUESTION FOR REFLECTION
What is your source of truth?
1CO 2:16
For WHO HAS KNOWN THE MIND OF THE LORD (so well), THAT HE WILL (be qualified to) INSTRUCT HIM? But we (believers in Christ) have the mind of Christ.
EPH 5:8 and 10
…walk as children of Light…//trying to learn what is pleasing to the Lord.
QUESTION FOR REFLECTION
What is your part in the CREATOR-CREATURE Conflict?
ROM 1:25
For they (unbelievers) exchanged the truth of God for a lie, and worshiped and served the creature (Satan and Self) rather than the Creator, who is blessed forever. Amen.
QUESTION FOR REFLECTION
Who is the enemy of your spiritual life?
1PE 5:8
Be of sober spirit, be on the alert. Your adversary, the devil, prowls around like a roaring lion, seeking someone to devour.
QUESTION FOR REFLECTION
What side are you on in the CREATOR-CREATURE Conflict?
JOSHUA 24:15
"If it is disagreeable in your sight to serve the Lord, choose for yourselves today whom you will serve: whether the gods which your fathers served which were beyond the River, or the gods of the Amorites in whose land you are living; but as for me (Joshua) and my house, we will serve the Lord."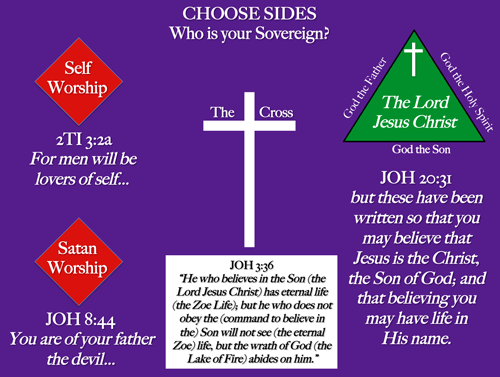 QUESTION FOR REFLECTION
Where do your soul's spiritual loyalties lie?
2CO 11:3
But I am afraid that, as the serpent deceived Eve by his craftiness, your minds will be led astray from the simplicity and purity of devotion to Christ.
BREAK
Above and Beyond
When I Think About Home
QUESTION FOR REFLECTION
Does your spiritual life feel like a life of freedom?
GAL 5:18
But if (1) you are led by (God) the (Holy) Spirit (and all of you believers in Christ are), you are not under the (Mosaic) Law.
ROM 6:14
For (the) sin (nature) shall not be (sovereign) master over you, for you (believers in Christ) are not under (Mosaic) law but (you are) under grace.
GAL 5:1
It was for freedom that (the Lord Jesus) Christ set us (believers in Christ) free; therefore keep standing firm (in the freedom) and do not be subject again to a yoke of slavery.
COL 2:8
See to it that no one takes you captive through philosophy and empty deception, according to the tradition of men, according to the elementary principles of the world (system of thinking), rather than according to (the thinking of) Christ.
MAR 7:6
And He (the Lord Jesus Christ) said to them (the Pharisees and scribes), "Rightly did Isaiah prophesy of you hypocrites, as it is written: 'THIS PEOPLE HONORS ME WITH THEIR LIPS, BUT THEIR HEART IS FAR AWAY FROM ME.'"
MAR 7:7
"'BUT IN VAIN DO THEY WORSHIP ME, TEACHING AS DOCTRINES THE PRECEPTS OF MEN.'"
MAR 7:8
"Neglecting the commandment of God, you hold to the tradition of men."
MAR 7:9
He (the Lord Jesus Christ) was also saying to them (the Pharisees and scribes), "You are experts at setting aside the commandment of God in order to keep your tradition."
WILLIAM R. NEWELL
Romans Verse-by-Verse, Page 107
Those attached to, and entrenched in tradition, will always be found fighting for tradition. Even among the most earnest Christians, the temptation and the tendency have always been to seize upon those truths emphasized by the leaders of the sect they follow and claim those truths and principles as their own.
QUESTION FOR REFLECTION
Are you a serious student of the Word of God?
ACT 17:11
Now these (the believers at Berea) were…noble-minded…for they received the word with great eagerness, examining the Scriptures daily to see whether these things were so.
EPH 4:22-24
…that, in reference to your former manner of life, you lay aside the old self, which is being corrupted in accordance with the lusts of deceit,//and that you be renewed in the spirit of your mind,//and put on the new self, which in the likeness of God has been created in righteousness and holiness of the truth.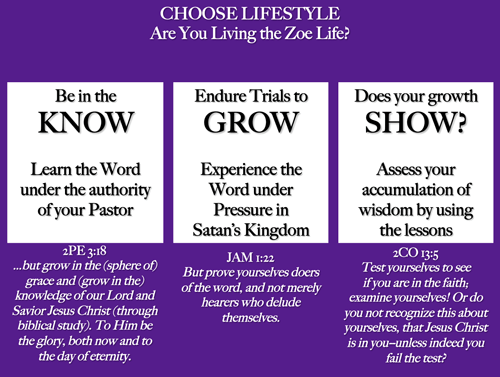 2PE 3:18
…but grow in the (sphere of) grace and (grow in the) knowledge of our Lord and Savior Jesus Christ (through biblical study). To Him be the glory, both now and to the day of eternity. Amen.
GAL 5:16
But I say, walk by (means of the enabling power of God) the (Holy) Spirit, and you will not (in fact, cannot never!) carry out the desire of the flesh.
JAM 1:25
But one who looks intently at the perfect law, the law of liberty, and abides by it, not having become a forgetful hearer but an effectual doer, this man will be blessed in what he does.
QUESTION FOR REFLECTION
Are you a friend of God?
JOH 15:14
"You (believers in Christ) are My friends if (3) you do what I command (request of) you (maybe you will and maybe you won't…you have freedom to choose)."
QUESTION FOR REFLECTION
Are you clear in your soul how much God loves you?
1JO 4:8
The one who does not love (unconditionally) does not know God, for God is (unconditional) love.
1JO 4:16
We have come to know and have believed the (unconditional) love which God has for us. God is (unconditional) love, and the one who abides in (unconditional) love abides in God, and God abides in him.
1CO 13:1
If I speak with the tongues of men and of angels, but do not have (unconditional) love, I have become a noisy gong or a clanging cymbal.
2TI 2:13
If (1) we (believers in Christ) are faithless (and we often are), He remains faithful, for He cannot deny Himself (the righteousness of God He placed in us...+R).
THANKS FOR WATCHING!
THANKS FOR LISTENING!