Class Outline:
---
TODAY'S ANNOUNCEMENTS JULY 14, 2013
Welcome to the Newest Member of Barah Ministries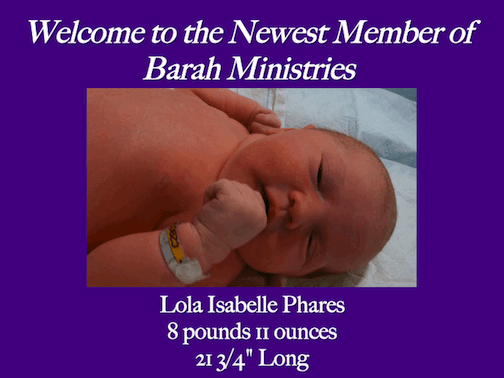 Mark Your Calendars!
The next Lord's Supper Celebration is August 11, 2013
HOMECOMING for the "Soon to Be Resident" Congregation September 28 and 29, 2013
No Face-to-Face Bible Study
Two Straight Weeks
August 25
September 1
December 8
December 29
Happy Birthday
Emily Capaldo
July 9
Available on the Barah Ministries Website
Video Lessons
Audio Lessons
Pastor's Notes
Podcasts
New Doctrinal Statement
Thank You
Matt Maronay Barah Ministries App
Congratulations
Joel Perkosky and Deanna Lemmon
Engaged!
Congratulations
Joel Perkosky
Passed the Exam!
Congratulations
Joe Shea and Charlott Capaldo
Wedding is August 31
BARAH MINISTRIES ON PAL TALK
www.paltalk.com
Download the software
Choose a nickname
Sign into the Barah Ministries Room
Listen!
Hotel Move
July 21, 2013
Hilton in Chandler
Coeur D'Alene Conference
August 9